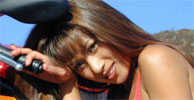 Okay, for all of you who've been wanting to buy the paper version of Rev magazine here's where you start. We are now selling photos and posters. Any and every photo on this web site is for sale. Just choose the size and click the add to cart button. Please specify which image you would like in the additional shnippig notes portion of the shopping cart check out. Do this by copying the URL (Address) of the image you want from the top of your browser window Ex:
http://www.rev-mag.com/ML55AMG/ml145.htm
To order by mail send your address, check, image names and sizes to:
Rev magazine
P. O. Box 1052
Pacific Palisades, California 90272
USA
Small
8.5 X 11
$10.00

Medium
13 X 19
$15.00

Large
17 x 23
$20.00
Don't forget to include in your order or letter, the size of your request; small, medium or large, and image name. Small size is 8.5 by 11 inches, medium is 13 by 19 inches and large is 17 by 23 inches. The costs of the three sizes are $10 for a small, $15 for a medium and $20 for a large poster. Plus shipping and handling. The quality of the photos and posters are truly amazing, you will not be disappointed
In addition to the posters, complete photo shoots are available on CD-ROM for $50. These include all the photos from the shoot, (including the out of focus and candid shots). This being a minimum of 300 pics with the average being 450. Order here online or send a check to the above address with your request.


complete CD
of entire
photo shoot
$50.00
Please specify which shoot you would like in the additional shipping notes portion of the shopping cart check out.